Dahlonega's Only Underground Gold Mine Tour!
Open 7 Days A Week
Rain or Shine
No Reservations needed for parties under 25 people
Hours
Monday thru Friday
10:00am – 4:00pm
Saturday and Sunday
10:00am – 5:00pm
Thanksgiving Day – Closed
Christmas Eve Open 10 am – 1 pm. Arrive by Noon.
Christmas Day – Closed
Open all other holidays with posted hours.
Location
185 Consolidated Gold Mine Road
Dahlonega, GA 30533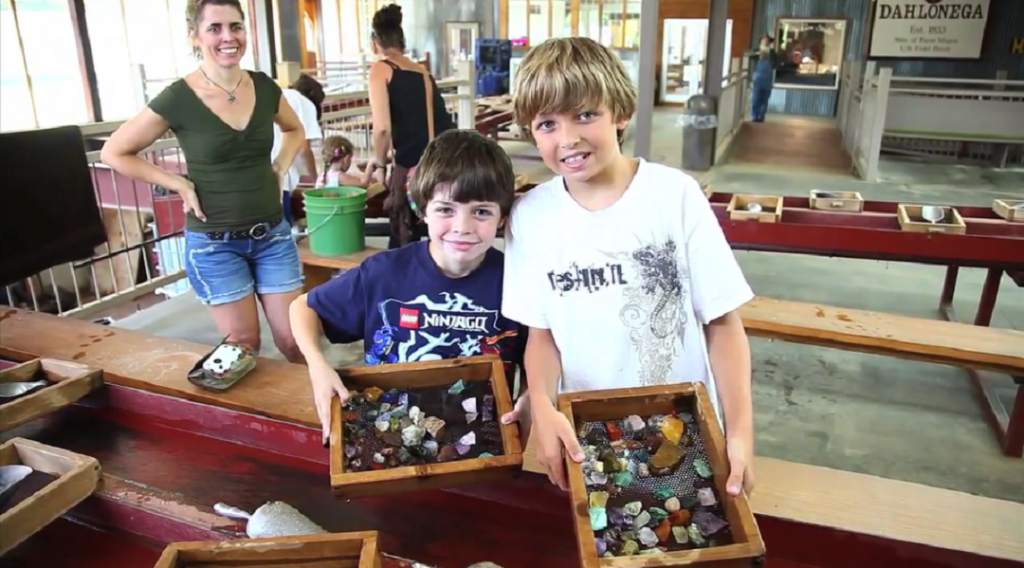 Discover Beautiful Gems
Emeralds, rubies and sapphires, oh my!
Find fantastic treasures with every scoop of our gemstone ore. For families, beginners and professionals alike, guests can use our water-powered flumes to find all kinds of precious and semiprecious gemstones. Our experts are on-site to help you identify your finds and our on-site lapidary studio can cut raw gems into beautiful jewelry that you can treasure for a lifetime.
Gem Mining
Buckets start at just:
$30
We offer buckets for the beginner and the professionals alike. Use our water-powered flumes to find emeralds, rubies, sapphires, topaz, amethyst, quartz, moonstone, garnets, and much much more!
Underground Tour
Adult Tickets:
$21.95
Child Tickets:
$14.95
Age 3-12 years
2 and under free
Includes a 40-minute tour over 20 stories underground, gold panning instruction from award-winning panners, and a free gold sample to try your luck.
Gold Panning
Starting at:
$30
Do you only have eyes for gold? Gold panning is offered separately from the tour as well and includes ore and instructions.
Group Rates
Parties of 25 or more that schedule a minimum of 1-week ahead are eligible for group discount packages. A single payment is required to get the group rate. Teachers and travel coordinators can download our Group Planning Guide.
Group Packages Options
Underground Tour + Gem Mining
Underground Tour + Gold Panning
Underground Tour + Gold and Gems
#1 Gold Mine East of the Mississippi

Voted top 10 by USA Today
Dahlonega's Gold Rush
Massive 120-stamp mill used to remove gold from ore, est. 1880's.
Dahlonega is proudly the site of the First Major US Gold Rush. Discovered in 1828, twenty years before the California Gold Rush. Miners used a variety of techniques to remove gold from the mountains. Early miners could simply pick nuggets from creeks or with simple panning, but as gold became more scarce mining style changed.
The mine was abandoned for 75-years, until a coal mining family from Kentucky, wishing for a change of occupation, brought new life to the mine and gave visitors a chance to expereince a turn of the century underground mine.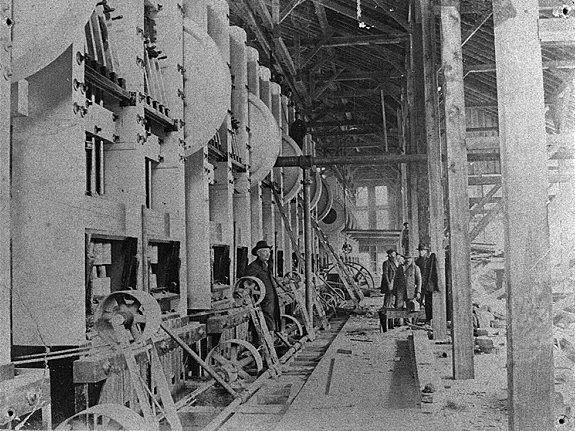 We accept VISA, MASTERCARD and DISCOVER Debit and Credit Cards and CASH. We do not accept American Express or Personal Checks.