Indoor Gold and Gem Mining!
Open seven days a week, RAIN OR SHINE.
Monday-Friday 10 am – 4 pm
Saturday-Sunday 10 am – 5 pm
Closed Thanksgiving Day and Christmas Day.
Open regular hours for New Year's Eve and New Year's Day!
 Call ahead if snowing.
Consolidated Gold Mine
Start planning your visit to the largest hard rock gold mine east of the Mississippi and it's located right here in Dahlonega, Georgia! Founded in 1896, the gold mine focused on removing gold trapped in quartz veins throughout the property.  Head 200 feet underground and over 100 years back in time to experience life as a turn of the century gold miner.  Your tour guide will demonstrate how miners blasted quartz veins to uncover huge deposits of gold.  After your underground tour, our miners will teach you how to pan for gold and you will have the chance to strike it rich.  We offer gold panning, gem mining, gem cutting and more year round and rain or shine.  So, if you are looking for things to do in Dahlonega, come out to Consolidated Gold Mines, North Georgia's only underground gold mine tour.
Ranked #1 for Things to do in Dahlonega on Trip Advisor  and Yelp!
Ask about our group tour packages!
Perfect for school or church groups, even summer trips and family reunions, our group tour packages make it easy to experience Dahlonega's gold mining history. Choose the package that is right for your group and come explore Consolidated Gold Mine, the best gold mine in Georgia.
Learn More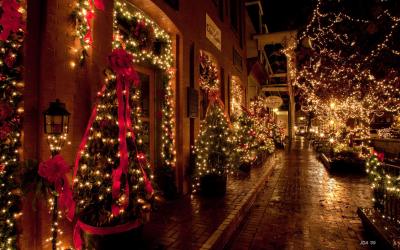 The holiday season in Dahlonega is a magical time. The square is illuminated with thousands of twinkling lights. The sounds of jingle bells fill the air as large draft horses pull folks around the square in elegant old-fashioned carriages. If you get lucky, you might even catch a glimpse of Santa and Mrs. Claus in their sleigh or maybe grabbing a bite at Bratzeit, the local German restaurant—something the paparazzi spotted them doing earlier this week. With so many whimsical activities it can be hard to pick any favorites. Well, this is our attempt at picking 6 Things to do in Dahlonega this Holiday Season. See Santa and Mrs. Claus Take your kids to see Santa. Don't have kids? Go see him yourself and let nostalgia whisk you away to the simpler times of childhood. Even the biggest Scrooge can't help but feel a little merrier after seeing the jolly guy. Santa's a busy guy this time of year, so be sure to check his schedule on the Dahlonega Old Fashioned Christmas website before heading to the square. Christmas Parade Bundle up and head down to the square on Saturday at 4:00. See Santa and Mrs. Claus roll by in his sleigh, minus the reindeer. Watch classic cars, big rigs, marching bands, tractors, horses, and floats make their way around the square. The parade is always a family favorite. Maybe you'd even like to participate by driving that '57 Chevy around the square, or maybe your want your civic organization to be represented. If so, fill out the parade application located on the Parade page on the Old Fashioned Christmas website.... read more