The holiday season in Dahlonega is a magical time. The square is illuminated with thousands of twinkling lights. The sounds of jingle bells fill the air as large draft horses pull folks around the square in elegant old-fashioned carriages. If you get lucky, you might even catch a glimpse of Santa and Mrs. Claus in their sleigh or maybe grabbing a bite at Bratzeit, the local German restaurant—something the paparazzi spotted them doing earlier this week.
With so many whimsical activities it can be hard to pick any favorites. Well, this is our attempt at picking 6 Things to do in Dahlonega this Holiday Season.
See Santa and Mrs. Claus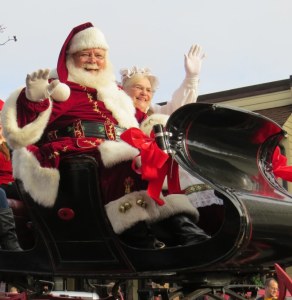 Take your kids to see Santa. Don't have kids? Go see him yourself and let nostalgia whisk you away to the simpler times of childhood. Even the biggest Scrooge can't help but feel a little merrier after seeing the jolly guy.
Santa's a busy guy this time of year, so be sure to check his schedule on the Dahlonega Old Fashioned Christmas website before heading to the square.
Christmas Parade
Bundle up and head down to the square on Saturday at 4:00. See Santa and Mrs. Claus roll by in his sleigh, minus the reindeer. Watch classic cars, big rigs, marching bands, tractors, horses, and floats make their way around the square. The parade is always a family favorite.
Maybe you'd even like to participate by driving that '57 Chevy around the square, or maybe your want your civic organization to be represented. If so, fill out the parade application located on the Parade page on the Old Fashioned Christmas website.
Hot Chocolate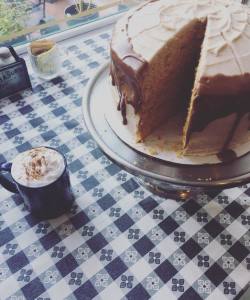 While you're perusing the square for gifts or checking out the lights, stop by Picnic Café on the square for a hot chocolate, raspberry or regular. While you're there, you might as well grab a slice of cake or get another delectable baked good.
Santa Dahlonega Dash 5k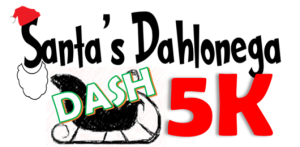 Don your beard and red suit and walk or run in this 5k. The race begins at 9:00 am on Saturday, December 10 at the UNG drill field.. Starting from the drill field, the course goes around the square and down some of the side streets. It's sure to be a fun race. Plus, all of the proceeds go to the Christopher Churchill Foundation, Inc., a non-profit benefiting cancer research. Register between now and December 9.
Carriage Ride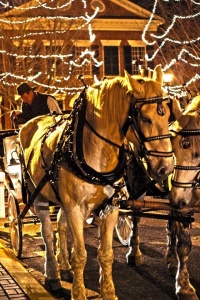 Running or walking long distances not your thing? Bundle up under a blanket and take a leisurely carriage ride under the dazzling lights of downtown. Watch as these impressive draft horses pull your heavy carriage round the square and reminisce about the not too distant pass where horse and carriage were the primary means of transportation around our little town.
See a Show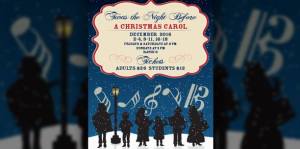 The Historic Holly Theater is a great place to see a show, especially at Christmas. This year The Holly will be featuring a play written by local playwright and Long Mountain Lodge owner Tim Quigley. It's entitled Twas the Night Before a Christmas Carol. Here's the description:
Dickens has promised his children that on Christmas Day the family will act out his first ever Christmas story. However, it's Christmas Eve, and he has writer's block His crusty British butler and their witty Irish nanny comically steal bits of each other's past to help Dickens write A Christmas Carol. In Act II, the family and staff perform a one-act adaptation of his classic Christmas story.
For showtimes and tickets, visit their website.
There's certainly a whole lot more than 5 things to keep you entertained in Dahlonega this holiday season. Head on over to the Dahlonega Old Fashioned Christmas website for the full schedule of events and details.
Don't forget! One thing that's great to do regardless of the season is our Underground Tour. The temperature of the mine stays a consistent temperature year round and there's no need to worry about a pop-up winter rain shower or snow.
See you around town!