This has been a big week for our sleepy little town! From the Make-a-Wish Reveal that took place on Tuesday during the softball games at the University of North Georgia to the hustle and bustle of filming on the square for a new pilot rumored to air on CBS. With so much going on in Dahlonega, we wanted to make sure you have the scoop!
On Tuesday, March 29 the UNG softball team played a double-header against Georgia College, but the game was not the main event!
The game was used as a Make-a-Wish Reveal for Emmalee Watkins who's wish was to take a trip with her family to the Turks and Caicos!
Both the softball and baseball games were broadcast on ESPN (very rare for a division 2 school) and were preceded by a tailgate with food trucks.
Traffic on the square in Downtown has also been a little wonky lately due to the closing of various streets and parking lots. Why is everything shutting down? Oh, just a little television show filming is all.
That's right, Hollywood, move over because Dahlonega is where all the stars are at this week! Film crews have set up a set that could trick most of us into thinking that there is just another festival going on in the square to film the pilot for a show said to air on CBS. It is rumored that stars such as Retta (better known as Donna Meagle from Parks and Recreation) and Casey Wilson (former SNL cast member more recently known for her role as Penny Heart on Happy Endings).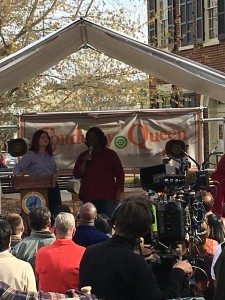 Some locals were even lucky enough to be cast as extras in the filming of the show! And for those who don't have big screen dreams, there was plenty of action to sit and enjoy from the balcony of Bourbon Street Grill. (The photo above comes to us courtesy of Chauna Utterback #chaunalonega who got to do just that!)
Though the camera crews are gone, the commotion in Dahlonega will not die down soon! In just two more weekends, Dahlonega will host the Bear on the Square Mountain Music Festival! Stay tuned for more information on event times and locations.